The Meiji MHWP series weatherproof enclosure is one of the unique best selling items here at Meiji Electric. Due to this, we decided to release a new and improved version that can accommodate your circuit breakers up to 26 poles. The Meiji MHMWP series weatherproof enclosure IP65 MHWP 03, MHWP 05, MHWP 09, MHWP 13 and MHWP 26 enclosures are designed to give protection to your breakers against various weather elements without deterioration.
Today, there are multiple types of enclosures which are made of various materials and with multiple ratings, so it's hard to know which outdoor enclosure will be more ideal, less expensive and will be able to stand the test of time. Here are the steps that you should consider when choosing a weatherproof enclosure.
STEP 1: KNOW YOUR SURROUNDINGS
Where will your sensitive electrical equipment be located?
Outdoors?
Close to salt water or in a hot, dusty area?
In the shade or in full sunlight?
On a pole or mounted to a wall?
Airborne debris, rain and other environmental elements can damage your improperly installed electrical enclosure. For example, salt spray is highly corrosive and can cause metallic enclosures even made of stainless steel to rust. So it would be better to purchase an outdoor weatherproof enclosure that is made of polycarbonate thermoplastic material.

The Meiji MHWP series weatherproof enclosure uses materials that are resistant to ultraviolet radiation. These materials were all tested according to ISO 4892-2, Method A Cycle 1 with a total test period of 500 hours based on 5170F-UV-A specification. In other words, the Meiji MHWP series weatherproof enclosures are designed to withstand extreme sunlight heat and other similar conditions. Therefore, these enclosures will never get brittle or damaged due to outdoor sunlight situations.
STEP 2: VERIFY THE IP RATING OF THE ENCLOSURE FOR YOUR SAFETY
If your enclosure is to be located in an area that is regularly rainy, or has damp weather conditions then IP65 would suit you.
IP rating is a standard that is used to define the levels of sealing effectiveness of electrical enclosures against intrusion from foreign bodies such as dirt and water. The rating consists of the letters IP followed by 2 digits, the digit stands for the level of protection that the enclosure provides against solid bodies, the second digit describes the degree of protection of the equipment inside the enclosure against water.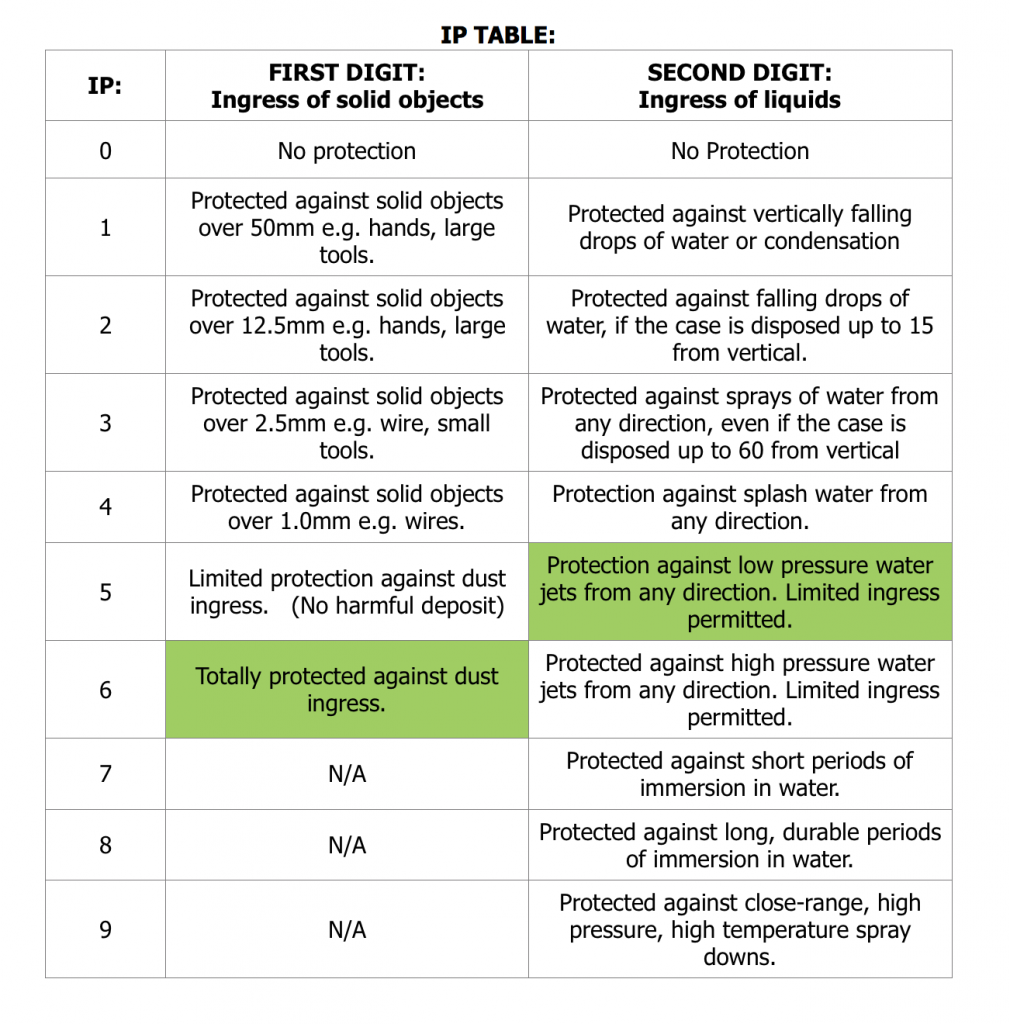 As you can see from the chart above, the Meiji MHWP series weatherproof enclosures which are rated at IP65, can protect your circuit breakers from total dust ingress and low pressure water jets from any direction. And due to its polycarbonate thermoplastic material,  the Meiji MHWP series weatherproof enclosures will never rust or corrode in any rainy or damp outdoor situation.

STEP 3: IS IT DURABLE AND BUDGET FRIENDLY?
There are enclosures available for almost every price point. Pricing depends on materials and customization like UL Standard NEMA 3R for outdoors or NEMA 4X which is a stainless enclosure that is quite expensive. The Meiji MHWP series weatherproof enclosure features a modern-day design that has a smoky cover which allows you to view the circuit breakers inside. It is made of a special polycarbonate thermoplastic material to protect your circuit breakers from sun, rain, dirt, oil and spraying water. Unlike the usual metal NEMA 3R enclosures, which tend to rust and discolor over a period of time, the Meiji MHWP series weatherproof enclosures will not deteriorate even when exposed to heavy rain and sunlight. Yet compared to a NEMA 3R enclosure, the price is practically the same. It is also very affordable compared to  NEMA 4X stainless enclosures. The Meiji MHWP series weatherproof enclosures cost less than one half compared to NEMA 4X enclosures. It comes in different models MHWP 03, MHWP 05, MHWP 13 and MHWP 13 and MWHP 26 which can house 3,5,9,13 and up to 26 poles of miniature circuit breakers, ranging from 1 ampere to 125 ampere frame.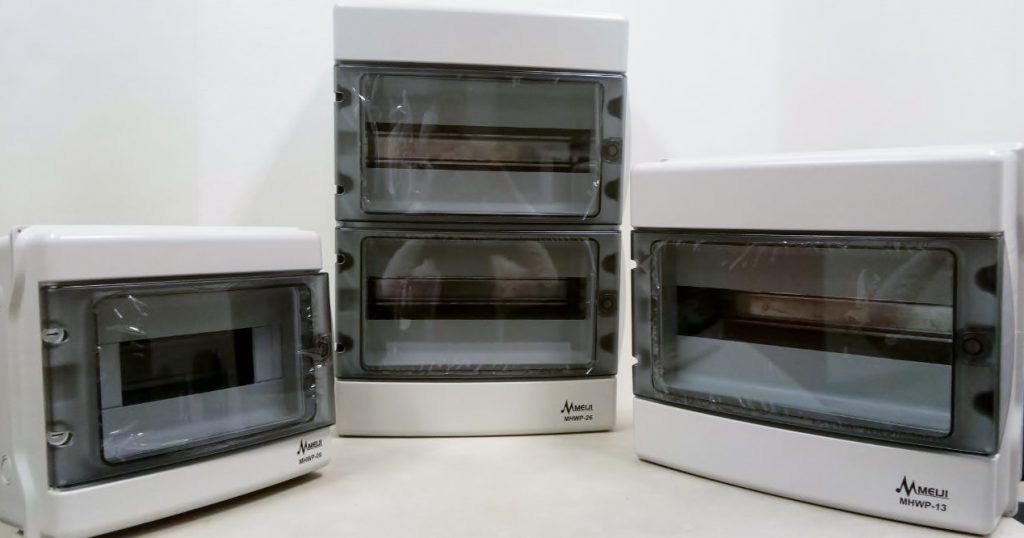 With Meiji Electric MHWP series IP65 weatherproof enclosure's affordable price, stylish and durable design, what more can you ask for? Avail of these items now to protect your outdoor electrical equipment, your business, home and your family!