Why should you get a GFCI outlet with a USB slot?
Certified Shock Protection
Damage Protection
Enhanced Convenience
If you've ever visited an electrical company in the Philippines, chances are, they've introduced to you GFCI outlets. If you didn't already know, a GFCI outlet is an incredibly useful electrical socket that has the added benefit of protecting appliances or electrical equipment that are plugged into it from unforeseen electrical shocks.
Fast forward to 2019 and a new and improved outlet has recently been released by Meiji Electric. This new version of the GFCI outlet only has one 220V plug but is now outfitted with two USB ports.
It's clear that this outlet is directed towards establishments that charge small devices and gadgets more than large appliances. Either way, the outlet is more than capable of handling these devices.
With an international outlet, you and/or your customers no longer need to bring bulky adaptors to enjoy safe and secure usage. This kind of outlet is currently one-of-a-kind in the Philippines. With voltage protectors alongside it and a number of other electrical protection devices, it's probably beneficial for you to make use of these outlets right away!
Discover the double benefit of GFCI outlets with USB ports by reading through this article!
Certified Shock Protection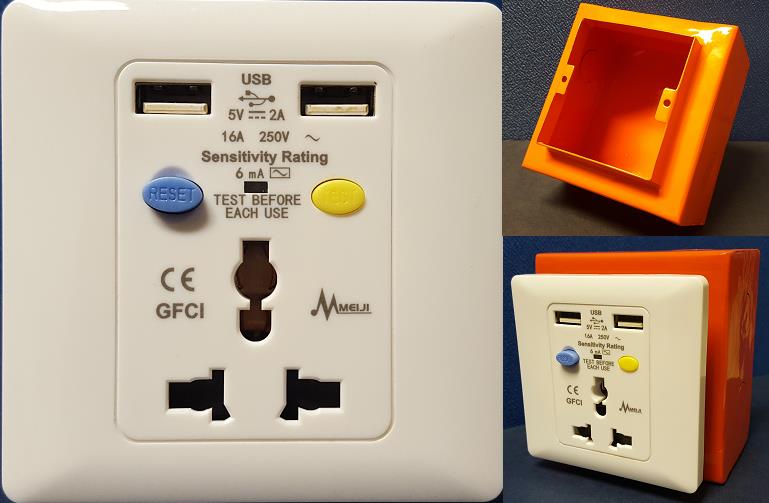 As the leading GFCI supplier in the Philippines, it's only fitting that Meiji Electric is at the forefront of the industry. They have designed this outlet with all the necessary safety precautions already embedded within it.
For those who are yet to be familiar with GFCI outlets, these devices protect every device plugged into it from power fluctuations and overloading, and protects its users from shocks and even electrocution. GFCI outlets have built-in sensors that monitor the inflow and outflow of electricity to an appliance. Whenever a fluctuation is found, the outlet will immediately notice the change in electrical flow occurring and will quickly shut off the power. This simple sensing and power shut off can prevent many electrical mishaps from happening.
Now, keep in mind the function of the USB ports. It's no secret that handheld devices are easier to damage than large appliances—especially when it comes to voltage fluctuations. No longer will you have to worry about unfortunate electrical issues while charging mobile devices with this outlet!
With GFCI outlets such as Meiji's MGU-252, you'll have maximum shock prevention for every device and appliance that is plugged into it!
Damage Protection
As protected and durable the wiring in establishments may be, not all of them can withstand the test of time. As time goes on, insulation breaks down and a certain amount of electrical current may start to leak into appliances, mobile devices, and other electronics that are plugged in. This rather invisible occurrence won't harm you directly, especially if your appliances don't have a metal body—but it will most certainly damage plugged in devices. This leakage of electricity is one of the most common reasons why things such as computer hard disks and other large appliances with multiple sensitive components fail without prior notice.
All of these are preventable simply by using a GFCI outlet! The electricity leak is also something that is easily identified by the GFCI's sensors and thus triggers the automatic shutdown of power This helps prevent expensive equipment and appliances from being significantly damaged from a dangerously invisible hazard such as an electrical leak!
Enhanced Convenience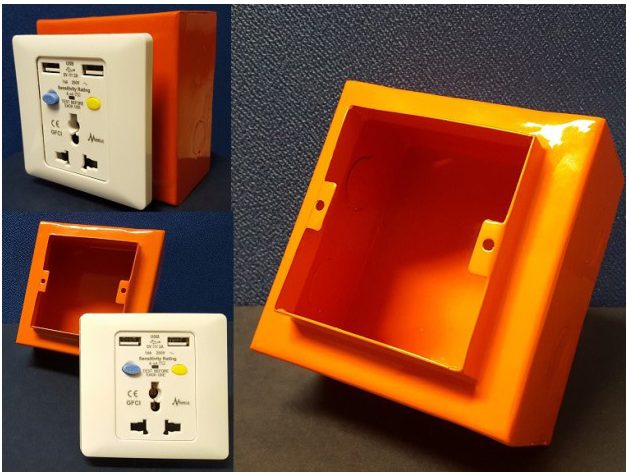 Reducing the number of electrical sockets by one and adding two USB outlets can be seen as advantageous by some and disadvantageous by others. However, as the world goes, it's leaning more towards becoming an incredible convenience. This is especially true since more and more people are using handheld, mobile devices that have a charging cable that doubles as a connector.
This kind of GFCI outlet is, in reality, not as good of a choice for households because of the limited slots for appliances. However, the place that it does shine in is in establishments made for accommodations such as hotels, motels, and bed and breakfasts. These establishments will benefit greatly from the MGU-252 GFCI outlet. This is primarily because most of the items that will be plugged into them are mobile devices and some of your usual electronics such as cameras, video recorders, and other portable gadgets.
GFCI with USB outlets make it very convenient for people who are on the go to quickly and safely plug in their devices for a top-up. With its International-rated outlet, you don't have to use any bulky adaptors — just plug in any appliance that you need! It's important to remember, however, that the outlet is rated at 220v. So you might still need a step-down transformer if you have a device that requires lower voltage levels.
Key Takeaway
The new MGU-252 is a GFCI Outlet with two USB ports. It's essential in establishments made for accommodation such as hotels, inns, and travel lodges. It provides all the safety and security that the normal GFCI outlet has but makes it even more convenient for those who have to plug in handheld devices! Before using them, however, make sure that you get an electrical company in the Philippines to survey your establishment's electrical wiring and system to see if you need to be aware of any electrical problem apart from what the GFCI outlets pick up.