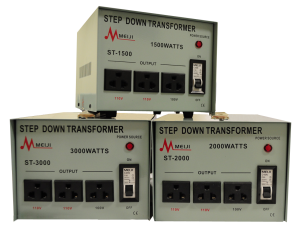 According to the Business Dictionary, a transformer is a device that converts an alternating (A/C) current of a certain voltage to an alternating current of different voltage, without change of frequency, by electromagnetic induction. A 'step up' transformer receives a low voltage and converts into a higher voltage, and a 'step down' transformer does just the reverse.
Meiji transformers allow you to use your 110V of appliance bought or sent from abroad to our usual working voltage of 220V-240V.
Portable type
Meiji Transformers have the portable type from 50w-750w with plastic handles. Also, it has a fuse as a protective device for over voltage. This will be the initial warning as it blows to inform you or the user that the ampere rating being used is more than the allowable. It also protects your appliance against short circuits and other dangerous faults to avoid accidents like fire. We also have a convenient switch for easier turn-on and shut-off without the need of pulling the plug from your wall outlet.
Dual output voltage
Also, we have a new feature dual output voltage (100V and 110V) to cater to countries using these voltages (i.e. Japan, etc). All our outlets are also uniquely round to flat (universal) with ground. These features together with our affordable prices make us a leading brand in the stores.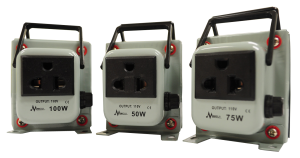 We have the box type for the higher rated transformers. We call it ST series. It has similar features except our outlets here are all universal (3: 110, 1:100) with sturdier handles. An added safety feature of a circuit breaker is included that would trip to protect your appliance in case of a short circuit and a fuse that will blow when over voltage occur.
You cannot go wrong with Meiji Transformers!
Available wattages:
50w
75w
100w
125w
150w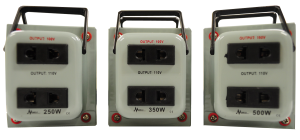 250w
350w
500w
750w
1,000w
1,500w
2,000w
3,000w
4,000w
5,000w
10,000w