Christmas is here! With it are the rush and hustle of buying gifts, preparing for parties, cooking favorite dishes, and giving to others the blessing we have for this year requires much effort and sacrifice.
Time is an essential commodity
Time is an essential commodity especially in this busy season so owning a timer can greatly help individuals who are not usually at home or who would like to be in control of what's going on at home.
Timers vary in shapes and sizes
Timers vary in shapes and sizes and for Meiji timer, upon the user's preference, it can also be customized accordingly.  Having a timer can allow you to organize your schedule WITHOUT  having to compromise the tasks and things you need to attend to.  Scheduling the activities ahead of time so it could be programmed into your timer can also work to your advantage. For example: You would like the garage lights to be opened every 6:00 pm so you wouldn't need to go home to a dark house after work.  Another example would be if you would like to relax into your  air conditioned room at 10:00pm every weekends. This can be arranged with your Meiji Timers!
Very useful for students and workers
Also, giving timers as gift can be greatly appreciated by the receiver since this can be very useful for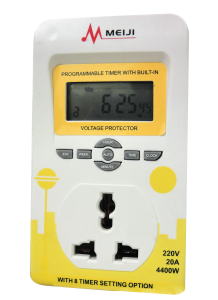 students, workers whether single or married alike.  This gift is low-maintenance unlike the other gadgets in the market  and inexpensive as well as handy because one can bring it anywhere even in faraway travels.
Timers can really help us celebrate the season
There are timers that operate on batteries while other ones may use wire type.  Some also opt to have them come with alarm systems and an individual can easily set it on his desired time and sleep to his heart's content without worrying of waking up late for an engagement. There is no danger of it getting lost because almost anyone can afford to buy it.  Timers can really help us celebrate the season free of hassle because in the midst of preparation and whirlwind of activities, one is reminded of his priorities of what should be done first and when.  One thing that's clear is the durability and being user-friendly of the gadget.  Even old folks can use timers without having to read the whole manual with complex technical terms.  One can just set it to his own satisfaction accordingly.  There are many brands that offer these kind of gadget so people must choose wisely depending upon the model and style they want for themselves or for somebody if it is given as a gift.