Christmas is just around the corner and I'm sure that by now, you have already adorned your houses with Christmas trees, garlands and colourful parols. It is the most festive time of year and having a safe and secure home will keep the holidays brighter for you and your family. Before you get busy in buying your Christmas gifts and other preparations, please take a while to review our holiday electrical safety reminders to avoid any potential danger.
#1: Determine the number of available outlets
When decorating, determine first the number of available outlets and its location. Be sure that your installed electrical outlet can accommodate the total load of your Christmas decors. The most common problem when hanging Christmas lights is the unavailability of an electric outlet. If your outlet is far from your Christmas lights/ decors, use the Meiji 20 Series Extension sets (WRP 2104/2027) that are made up of polycarbonate ABS plastic material and ranges from 3-5 Metered wires. It also has 3 outlets rated from 1200 to 2500 Watts and your choice of white, black and even green colours.
You can also try our Meiji 13 Series Extension Sets (MES-1303 to 1306). This series consists of 3 to 6 international outlets with individual switches, shutters for child protection and fuses for each outlet. It also contains a circuit breaker to better protect your higher rated appliances. It is made up of fire-retardant plastic in grey colour, rated at a total of 2,500 Watts.
# 2: Turn off all indoor and outdoor electrical decorations before going to sleep or leaving the house.
# 3: Do not use electrical ornaments or light strings on artificial trees with metallic leaves or branches.
Or better yet, update your tree to the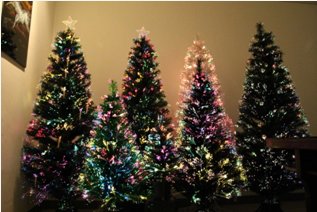 Meiji Fiber Optic Tree with programmable energy saving LEDs. This year, we have four new designs to choose from. The MFL-DL with LED dancing lights, MFL-RM with LED blinking colourful balls, The MFL-G that has steady gold fiber optic with colourful LEDs, and the MFL-SS which has LED stars with 8 different motions. With this type of Christmas tree, you don't need to put on any Christmas lights and unlike the conventional tress, it does not heat up. Energy efficiency is another benefit of using this tree since LEDs only consumes 1/3 energy. This will add up to big savings on your electricity bill by the time the holiday season is over.
# 4: Do not overload electrical outlets.
Overloaded electrical outlets and faulty wires are a common cause of holiday fires. Avoid overloading outlets and only plug one high-wattage appliance into each outlet. Read the power consumption of your appliance and make sure it is within the capacity of your outlet.
# 5: Outdoor Christmas lights and decorations should be plugged into circuits protected by Meiji Ground Fault Circuit Interrupters (GF-250/ MGF 250).
These are protective outlets designed to shut off an electric circuit when it detects current imbalance due to ground faults or grounded wires. Pair it up with the Meiji Weather Proof Cover (MCS-2204) for added protection!
# 6: Always unplug electrical decorations before replacing bulbs or fuses of your Christmas lights to avoid electric shock.
# 7: Make sure that you have a stand-alone Meiji Smoke Detector with Alarm (MSD-01/ MSD-02) 
With all the family reunions this Christmas season, your kitchen will surely be busy. Make sure that you have a stand-alone Meiji Smoke Detector with Alarm (MSD-01/ MSD-02) to warn you when it detects smoke; that is typically an indicator of fire.
Caring and providing excellent electrical products for our customers is something we strive to do all year round. On behalf of Meiji Electric, I would like to extend our sincerest thanks for your continued patronage, and wishing you a Joyful plus safe Christmas and a Prosperous as well as electrically secured New Year!