Problem 1
Don't you hate it when you're using your laptop and it's running on low battery, and when you try to plug it up to the nearest socket, you find yourself in an extremely awkward situation because the socket is so far from where your laptop is? Or don't you hate it when you're using any appliance – electric fan, television, desktop computer, or lamp and the nearest socket outlet is far that the wires are all tensed up to one foot above the ground – like a trip wire waiting for you to sever the connection anytime? Well that can only be fixed in two practical ways – one of which is WAY practical than the other.
First option: Rearrange your appliances so that they all are within a comfortable vicinity from the socket (but that would still be a problem since most socket outlets have can only accommodate  two appliances, and I'm sure you have more than just two).
Buy an extension cord.
Problem 2
Now have you ever considered what it will be like for any of your most valued electronics – your computer or flat screen HD television set to be rendered useless because of damage even though you protect it with the best of your ability? Have you considered what level of frustration would go through your mind if you find out that having it fixed is more expensive than buying a brand new one just like it? Well you don't have to. I'm specifically talking about damage due to a sudden, out-of-the-blue power surge or spike due to a lightning strike or any other cause. No warning will be given to you when this happens. This chooses no one. It could just come anytime and literally give your appliance the shock of its operating life. Probably unknown to you, it's just an accident waiting to happen and your most prized electronics are like sitting ducks – waiting for that unfortunate day.
Two problems
The need of an extension cord and the need of surge protection. One solution. Could there be possibly any answer to this dilemma? Thank God for Meiji – yes of course! Meiji brings you their extension cords with built-in surge protectors. What more can you ask from a long extension wire and a 250-Volt, 10-Ampere, 2500-Watt rating aside from its built-in surge protection? Its safety and convenience in one product. The best is, you can choose from three variations of these exciting gadgets from Meiji: The Meiji MES-1300, The Meiji MES-1301, and The Meiji MES-1302 (respectively as in the picture). All three of these have the built in protection that is necessary. The Meiji MES-1301 and 1302 have 2 meters long wire, while the 1300 has a 3-meter-long wire. How 'bout that for convenience and protection?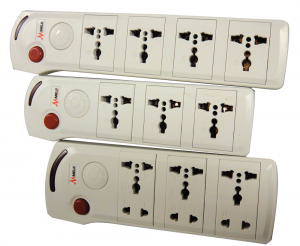 To be true to the necessary maintenance of your beloved electronics requires the utmost protection. (That's for the appliances' sake). But there's also the convenience you yourself need for your sake. The Meiji extension cord – it cares for your safety and convenience – just like the overall satisfaction brought to you by any Meiji Electric product. Try it and see for yourself! I know I did.