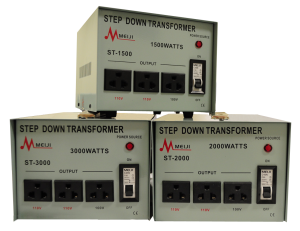 Among many product lines that Meiji Electric carry, Transformers consist to one of them. Transformers according to Wikipedia are used to transfer electrical energy from one circuit to another through magnetic coils operated by its primary and secondary windings. These windings determine the two types of a transformer: step-up or step-down.
Now as you know, in our country our working voltage is 220. But in countries such as Anguila, China, Cuba, Guam and USA use 110-120V. Because of this, when relatives and loved ones send appliances over to the country, we need to use step down transformers.
Decreases Voltage
A step down transformer decreases voltage from primary to secondary, having more primary winding turns than secondary winding turns.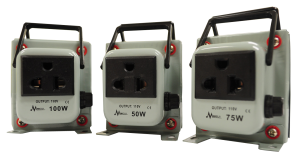 Plugging the appliance on Meiji's step down transformer 110V outlet allows your appliance to have an output of 220V thus making it useable. A step up transformer on the other hand, increases voltage from primary to secondary windings having more secondary winding turns than primary winding turns. When you in turn will bring an appliance or gadget having a 220V output, you need to buy a step up transformer using its 220V outlet in order for it to be used.
Meiji step down transformers have a number of advantages compared to other suppliers in the market. First, Meiji TC models comprising of 50 to 750 wattages come with handles. These handles do not heat up in case you need to transfer your transformer from one place to another. For higher and heavier wattages such as 1000-5000 called ST models, the handles are made up of rubber material. Meiji promotes convenience to its users.
Warn the User
Meiji step down TC models also have fuse protection device that will blow in case of a short circuit, over current or over voltage. This will warn the user to make sure the device plugged-in is inappropriate with the load capacity of the transformer. In addition to this, ST models also have a circuit breaker on top of the fuse protection device. This circuit breaker will automatically trip protecting both your appliance and the transformer unit itself.
The number of available outlets is also a major advantage with Meiji step down transformers. For models TC-250, TC-350, TC-500 and TC-750, there are 2 available output voltages namely 110 and 100 catering to countries with these working voltages. For ST Models 1000-5000, 3 outlets are available: 2-110V and 1-220V.
Meiji provides you with convenience, aesthetics and a complete line of wattages available from 50W until 10,000W for all your needs. Try it and tell us what you think!