As the chills of December breezed in, it has always been a family tradition ever since I was young that we go to Baguio. For the passed 4 years, we have been staying in at Baguio Country Club (BCC).
It has been a wonderful experience ever since because of individual personal reasons by each member of the family. The people are wonderful; hospitable and friendly. They even welcome you with snacks and drinks.
For my dad, the greens were his escape! He loved having breakfast early morning at the veranda, or what BCC calls Cotterman. As he eats and reads his morning paper, birds and the voices of golf players were his background music.
For my mom, since John Hay was nearby, she could live there. My mom, perhaps like yours, loves to shop! Our dad even says she's born to shop, hehe! Well I hope not… BCC is in close proximity to many good restaurants in Baguio too. So that's a major plus!
For the 'kids' or kids at heart, you, like us, may enjoy their facilities. In its Sports Complex, you can play bowling, billiards, ping pong, and arcade. My siblings and I spent hours there and made a lot of fun memories.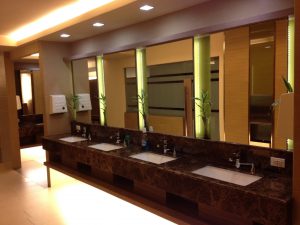 For those of you who are sporty, BCC has a mini-golf driving range, indoor heated pool, heated jacuzzi and kiddie pool for the whole family to enjoy. In addition, they also have a gym! And this year, to top it off, the men's locker rooms are newly renovated!
As you can see from this photo, it is 5-star quality! With these magnetic lockers, no need for keys so no hassles while you're working-out. You're free to use their alcohol, lotion, powder, disposable shaver and so on. And to our surprise, they're using Meiji Ground Fault Circuit Interrupters (GFCI)!
Meiji's GFCI at Baguio Country Club
Meiji GFCI unlike other weatherproof outlets protects both the user and the appliance plugged in from shocks and other faulty wiring. It is
difficult to avoid that while we shave or even dry our hair, our hands may be wet. Plus, accidents happen when they are least expected. So we really credit BCC for the choice of using Meiji's Ground Fault Circuit Interrupters.
As tradition, our family spends the New Year here and enjoys their count down and fireworks displays! For those of you who are a fan of fireworks, you ought to visit Baguio Country Club's!
For me, they are much better than Hong Kong Disneyland's! See for yourself.