One of our company's most sellable items is our extension sets. We categorize them into the Classic Series and the 13 series. For our Classic Series, they are known for our polycarbonate white ABS plastic material. It gives your extension cords a glossy white look: clean and classy. Given our features of 3-5 Metered wires, 3 outlets rated at 3,500 Watts, 15 Amperes, 250 Volts and your choice of white black and green (available only during Christmas season), not to mention our very competitive prices, in the market. You wouldn't even think twice.
Features
As we continue to research on good, affordable items, one of our newly released items include our 13 series extension cords. This series consists of 3 until 6 universal outlets with individual switches, shutters for child protection and fuses for each outlet.
This fuse protects your computer or other appliances as it blows to indicate over voltage and or other faults.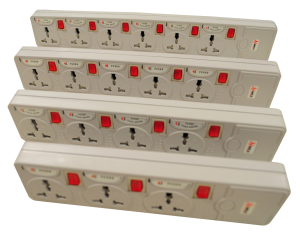 It also contains a circuit breaker to better protect your higher rated appliances. When it trips, this would be a warning that your appliance may be experiencing faults, shorts and/or others.
It is made up of fire-retardant plastic in grey color, rated at 2,500 Watts, 10 Amperes, 250 Volts assuring the items' durability and reliability.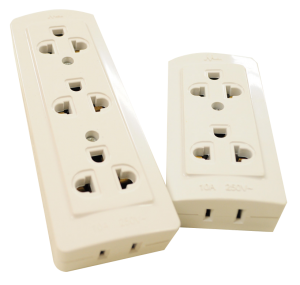 For people who would need very lengthy surface outlets, we would like to introduce you to our surface type models. To make it sturdy, reliable and safe, these are made up of copper bars to also be more effective. Rated at 2,500 Watts, 10 Ampere, 250 Volts, with its competitive price, you wouldn't ask for more.
Make sure what your money's worth, only buy Meiji Extension Cords. We make sure it's more than worth-it!