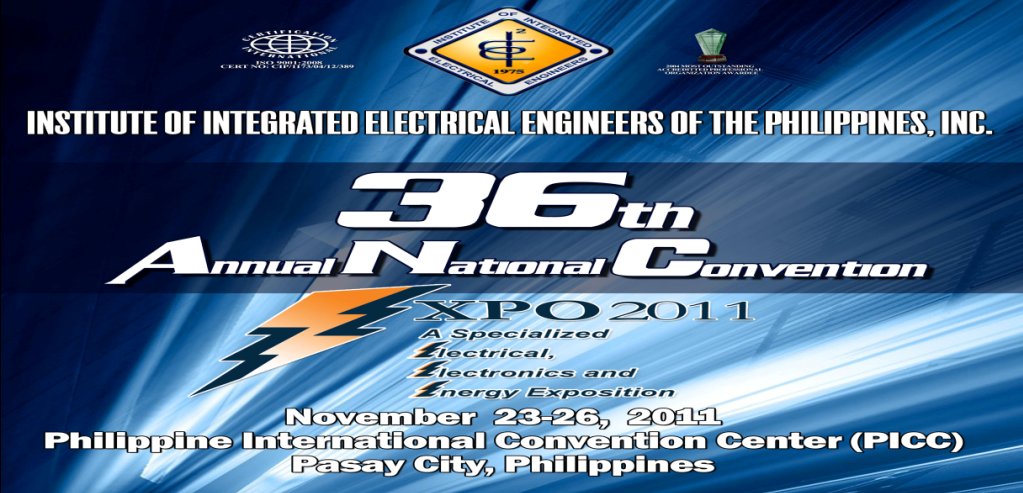 Meiji Electric Philippines Inc. with its objective of actively participating in the Electrical Engineering Industry and updating the electrical market on its latest products will be participating in the 36th IIEE convention to be held from November 23-26, 2011 at the PICC complex, Roxas Blvd, Manila.
Products that will be showcased are:
The New 'LS' Metasol, MCCB (Molded Case Circuit Breakers), MS (Magnetic Starters) components, ACBs (Air Circuit Breakers), LS MCBS (Molded Circuit Breakers), ATS (Automatic Transfer Switch), CTS (Contactor Transfer Switch),  Frequency Inverters.
Meiji Classic Series (MCS) Wiring Devices, GFCI (Ground Fault Circuit Interrupter), MCB (Molded Case Circuit Breakers), MTS (Manual Transfer Switch), Magnetic Motor Starter  and MHPs (Meiji Home Panels) will also be presented.
Electrical consumer items such as 'Meiji' Transformers, Extension Sets, Timers, Automatic Voltage Regulators (AVRs), Voltage Protectors, Adapters will also be exhibited.
Occupying booth numbers 165-166, with a unique design consisting of 4 rotating square displays, Meiji Electric staff will be more than eager to serve you.
Expect to see s panoramic wall panaflex featuring the different Automation and Control Equipment complete with flat screen slideshow, leaflets, catalogues and brochures for your needs! The booth is also equipped with mini tables for more inquiries, quotations and/or discussion about the items. This will mark one of the more significant participation of Meiji Electric in IIEE!
For all our electrical engineering practitioners, industry users, fresh graduates and the general public, please allow Meiji Electric to give you an accurate knowledge of the different product lines it distributes and enhance or initiate an image and business relationship among you!
Please contact our personnel in-charge: Marge Abundo or Joy Garcia in telephone numbers 414-4012, 727-5790 to better assist your needs during the exhibition.
We'll see you there!