Matching your outlet and switch cover plates is is one of the easiest way you can decorate your room.  It is a new, inexpensive and unique way to incorporate more color and add flair too!  It turns the wiring device into a decorative, updated accessory. There's no need to know about the technicalities of wiring devices and electrical connections (yet). You just have to let out the creativity in you and choose the design that will suit and fit your  style and interiors.
This article suggests tips on how to tailor your interiors with customized light switches, electrical outlets and wiring devices.
Often, electrical outlets and switches are afterthoughts in designing a room. We simply leave them as they are: boring white stuff.
Now that you've landed into this page, you may want to consider painting the cover pates ranging from warm and neutral to deeper and bolder colors.
To fully blend the switches and outlets with the wall, paint the receptacle face, switch levers and cover plate screw heads with a coordinating paint that will match the room. This may either be the same color with a different blend or a contrasting color altogether against the wall paint.
       2.       Cover switch or outlet cover plates.
If you want a textured design other than simple bland color, use wallpaper to cover and patch over the switch and outlet.
To do this, remove the cover plate and reinsert the screw, cut a scrap wallpaper and fasten it with drafting tape behind. For plastic cover plates, vinyl-to-vinyl adhesives are suggested.
3.       Create themes.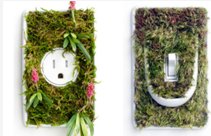 Introducing new patterns enhances an existing theme. Take inspiration from your appliances in certain areas of your home. For instance, try Victorian style outlets for your living room to create that cozy and inviting appeal. Experiment with food themed outlet covers in the dining room and kitchen. In the bathroom, you may go for seaside, bubbly or beach-inspired look. In the patio or garden, go for the grassy or mossy effect closer to vegetation.
Conclusion
To any house and interior, first impressions mean a lot. When guests walk into your home or office, wow them at the best you can. Our wiring devices, switches and outlets are most seen because they need to be used in our every day lives and should be easily located. Taking care of details down to matching the colors of the cover plates and screws of your outlets and switches will bring you no regrets in the long run.
When your visual taste changes, you can snap on a new color or design without touching the electrical parts behind the wall or hiring an electrician to replace the device. Once the electrical components are installed, the sleek cover plates snap directly onto the device, making the plates easy to change.