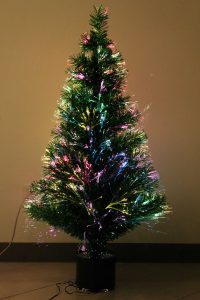 It's berrr months again. How time flies! Another year is coming close to an end. But before it does, let's not forget to celebrate the wonderful season of giving: Christmas.
Usually as our culture promotes to have each of us set-up a Christmas tree in our homes and have it colorfully decorated, whether it be ornaments, garlands and the usual Christmas lights.
This article is here to inform you why you should buy for yourself a Fiber Optic Christmas tree versus the conventional one.
Fiber Optic VS Conventional
As you can see, fiber optic trees are composed of long, thin strands of pure glass that are arranged in bundles that can transmit light over a long distance. In each strand of fiber optic has 3 parts: a thin glass center where light travels, a material that reflects the light and a coating that protects the fiber. In its base is a color wheel, which could give your tree a display of variety of colors more than what the colorful Christmas light can give you. You need not worry about having to buy a new set just because one bulb got busted because in Meij Fiber optic trees, you need only to replace a 10watts halogen bulb for the 2ft trees and 20 watts for 4ft and up!
Fiber optic trees do not heat up unlike the conventional ones. This type of tree ensures your home of safety especially from fires. As you enjoy an all day and night Christmas ambiance, you also don't need to worry that your little ones want to play with the lights or hold it for long. Because it does not radiate heat, they can do so all day as much as they want to.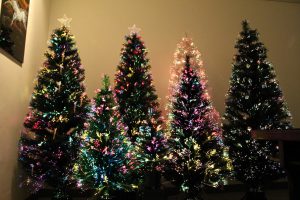 Fiber optic trees are inexpensive. In fact, it allows you to maximize the cost of the tree because it lasts really long. Personally our family has been using our Meiji Fiber Optic-Green for 6 years now and it still works like new and we have not bought Christmas lights ever since!
Aside from these, Meiji Fiber Optic trees are also easy to assemble and disassemble. You simply have to open up its leaves and you're all set-up! Some models have built-in decors too such as star, candle stick or Christmas balls etc. This way, it is really cost efficient. Not only this, Fiber Optic trees are also energy efficient using 10 times less energy than that of an ordinary Christmas bulb.
Meiji Fiber Optic trees are available in 2ft, 4ft, 5ft, 6.5ft and 8ft. There are also a variety of designs to choose from namely, Acicular, Balls, Candle Stick, Shining Green, White and this year's new release: Black! Check it out in SM Department Stores décor section, Ace Hardware, Ace Express and National bookstores.
Treat yourself a Fiber Optic Christmas tree this year and have a Merry Meiji Christmas!