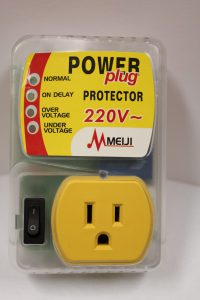 Travel. The movement of people/objects between relatively distant geographical locations through land, air and sea transports. More often than not, we bring bags or suitcases to carry our belongings like clothes, toiletries and electronic gadgets to name a few out of necessity. These electronic gadgets may come in the form of laptops, mobile phones or cameras for adults and ipods, playstation or tablets for kids which come with their corresponding bags, batteries and chargers. Yet there's one thing that we often neglect to bring: voltage protectors.
What are Voltage Protectors?
Voltage protectors, as the name implies, are devices designed to protect our electronic gadgets from sudden surges or fluctuations in voltage by limiting if not shorting to ground any unwanted voltage to the recommended safe threshold level. A voltage protector is mostly compared to an Automatic Voltage Regulator (AVR ) because of their similar features: protecting the appliance plugged in from faults and fluctuations, built-in delay. Please note however their differences: Voltage Protectors merely cut power supply from the outlet to an appliance while an AVR regulates and continues to provide stable power to your appliance.
When traveling, Meiji voltage protectors could pretty much stand as the invisible line between saving our equipment and having it broken or destroyed. We all know of the hassle of having something repaired to a shop, of continually making follow-up, not to mention the time as well as the resources expended which could ring up to tens and thousands of pesos just to have a device fixed. And what about the data loss on our laptop computers, it might take forever to reconstruct those data once more. You wouldn't want that to happen again, would you?
Meiji Voltage Protectors don't cost much and is very much portable compared to your AVR. And the benefits it gives us especially on our travel trips make it handy.
So what else are you waiting for, before you get on that next plane or ship, make sure that voltage protector is one of the things in your checklist! Have a happy travel especially this holiday season!  🙂