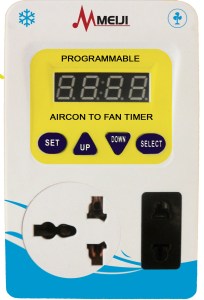 The New Meiji Aircon to Fan timer allows you to plug-in your air conditioner and electric fan in one unit. It has an international and universal outlet with a 4,400W and 20A load capacity. Meiji TC-V003 item accommodate your air conditioner up to 2 Horsepower.
With Meiji's Aircon to Fan Item, say good bye to those hot, sweaty mornings! Now, you could set your air conditioner to turn off at your desired time (hours and minutes specified) and your electric fan to turn on immediately after.
No additional adapters needed for Meiji Aircon to Fan Timer makes use of a tandem plug workable at 220V, designed specifically for your aircon use.
You could also set the Meiji Aircon to Fan Timer to 'COOL' mode which means that the Aircon is always on. You can also set the item to 'FAN' which turns on the Fan item only. As 'OFF' mode turns both outlets off, which helps you save power.
1. Press 'SET'
2. Input the number of hours desired for your aircon to be on.
3. Press 'SET' again, to input the number of minutes desired for your aircon to be on.