The Christmas bells are ringing, the Church choirs are singing, and the Christmas lights are blinking. It's the season again, and you feel it come in all senses. You see all the decorations, you hear all the Christmas music, you smell the Christmas food which you also can taste, and you feel the coolness of the wind as the frigid breeze touches your skin. So along with the coming of this time of year, you join with the rest of the world. Maybe you're planning on setting up a Christmas tree, extremely decorated, and spun around with flashing Christmas lights. Perhaps you've already even set it up. Well that's a good thing, but have you ever considered the pros and cons of the traditional Christmas lights in light of fiber optics?
               Advantages
 Traditional incandescent Christmas lights are very easily obtained. In any store, mall, or bazaar, you'll be sure to find them there with a great variety to choose from. It ranges from the color, bulb size, wattage, and of course, price and quality. Versus fiber optics, the traditional Christmas lights are way easier to find in order to purchase.  In the context of illuminating Christmas trees, any regular Christmas tree, be it an artificial plastic one or a real pine tree, can be decorated with blinking, flashing ornaments.
Usually in decorating Christmas trees with fiber optics, the fiber optic system itself is built from the base of the Christmas tree to along its branches. If you were to illuminate a Christmas tree by the use of fiber optics, you would have to buy another tree. Another advantage of the traditional Christmas light is that you can put them along the border of the fence, by the roof of your house, or along around the edges of your windows. They're very flexible and you can put them anywhere.
Disadvantages
However, traditional incandescent Christmas lights gravely lose to fiber optic technology. Why? It's because of a few reasons that are essence. Let's look at this in the context of lighting a Christmas tree. Incandescent lights are not very efficient. Fiber optics are more efficient since it only needs one light source, and the fiber distributes the light to different points, unlike the traditional ones where each point that light emanates from is a separate light source.
Fiber optics can display different colors even though it's just from one set. Traditional Christmas lights may vary in color, but the color of the set that you got is like that forever. The best it can do in variation is by how it changes the pattern of its blinking. How boring!
Most importantly, Christmas lights heat up. Fast. They're the most common cause of fires in households. On the other hand, fiber optics don't heat up at all. You can touch the glowing ends and you can still keep your fingertips unburnt.  Ever had an experience of being burnt by an incandescent light bulb from a Christmas light that's as hot as an iron? Yeah. You know what I'm talking about.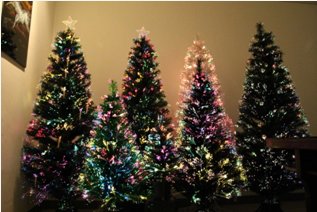 Also, Christmas lights lit up through fiber optics don't have to be turned off during the night. It saves so much energy and it so not prone to heating up, that you can keep the happiness lit up all throughout the night. Unlike Christmas trees lit by traditional Christmas lights, you'd have to unplug the lights throughout the time you sleep for safety and economical reasons.
Meiji Electric offers a choice of Fiber Optic Christmas Trees. You may deem it unnecessary to buy another Christmas tree, but this is an investment. Imagine the slash it will give your electric bill. Imagine the colors it can showcase off. Imagine the safety that you can have.
Here at Meiji Electric, your consumer delight is our prime priority. And it would be a shame to see your bearing with something that can be improved. So why don't you give up using unsafe, low-tech incandescent Christmas lights and switch to Meiji Fiber Optics?