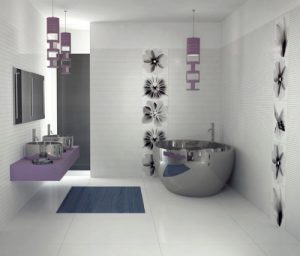 Have you ever wondered why comfort rooms are called such?  Comfort rooms should live up to its name and provide comfort then.  Problem is, in our country, comfort rooms rarely do the word comfort justice. Comfort rooms are supposed to be our personal sanctuary where we feel we can be alone. With this expectation,  it's one room in the house, in which design should be pleasing, with a playful match of personality and practicality.
In this article, we show you how to design comfort rooms the way the word "comfort" is embodied.
1. Consider the users' ages and physical abilities.
If the elderly or children would be using the comfort room, then extra care should be part of every corner of the room. The design should serve with limitations of mobility, strength and vision. For example, ordinary doors should be replaced with pocket and wider doors for wheelchair access; floor tiles should not be of slippery surface or texture.
The height of the sink, mirrors, cabinets, countertops, bathtubs, et cetera should be appropriately mounted lower for easy-reach ranges. Rails, grab bars and other such supports must be installed. In addition, depending on the need, a bench, backrest or headrest and highly visible (rounded) edges should be in place for resting and avoiding injuries.
2. Personalize your space and nurture your physical and mental well-being.
Set up ample lighting. Opt for larger windows for natural lighting and exhaustion of stuffy air. Also, this is to view the outdoors and reconnect with nature. To broaden your palette, put on patterned or textured glass with abstract arts or things you love. For walls, warm and organic colors can inspire your sensual side.
If budget permits, pamper yourself with spa-type features like hydrotherapy tubs, underwater lamps for lighting, steam showers, saunas with aromatherapy accents and surround music.
If you have a larger space, you can afford to have your luxury options such as wardrobe selection area, makeup area, bodybuilding area and a small beverage counter with an automatic coffee machine.
3. Control water usage according to actual necessity.
As water is the main element used up in the bathroom, be wise and reduce its consumption by installing proper water fixtures. For instance, choose low-flow designs with automatic electronic cut-off for faucets and/or showerheads. For flushes, recommended are low-water volume, dual-flush (with two volumes) and waterless composting toilet seats.
4. Stay safe with ground fault circuit interrupters (GFCI).
Common knowledge says that the combination of water and electricity is just deadly—making you prone to being electrocuted and having electrical injuries, burns and other damages. In your comfort room, you most probably have your hair blower, hair iron, shaver, heater and other electrical devices plugged into the outlet. To prevent electrical hazards, install Meiji's ground fault circuit interrupters.
A GFCI constantly monitors the current flowing in a circuit to sense any loss of current. When you accidentally knock off the hair dryer into a tub filled with water, for example, the GFCI will automatically shut off the circuit within milliseconds by interrupting the current flow to prevent a lethal amount of electricity from reaching you.  Thus, even if you may have reached out for your hair dryer inside the tub, you are safe. We just don't think your hair dryer is.
We search for welcoming paces at the end of the day that will allow time for relaxation and rejuvenation after our over scheduled busy lives. There may be millions of ways on how you can best design your comfort rooms. Design is critical to comfort but most important of all is safety— which is why Baguio Country Club renovated their locker rooms with Meiji's GFCI.  Go and try it out  before  serious electric damage.