NOT a lot of people really go out and take advantage of timers. Probably because they don't know the convenience a timer gives and what savings can be earned with the use of a timer. Timers, with the right use, are not just gadgets that shave off electricity use. They are money saving gadgets that will not only benefit the environment but also one's pockets. Meiji offers a line of timers that can help simple users like you and me make use of our money efficiently. It's actually a win-win situation!
Here are two Meiji Timers to acquire for a more convenient home.
1. The New Voltage Protector with Timer
Once the timer is set, it just keeps working for you. The only time you change it is if you have a change in your schedule. Even if you are away on vacation for two weeks, you can set your appliances to start working again once you enter your home, or even before that so you can be greeted by a cool room with the aircon on. But this timer is not confined to just turning on the aircon.
This is a new product that Meiji offers that has an on-off option for appliances that can be timed according to your preference. You can also dictate the time your appliance turns on or off according to the day. So if you want to defrost your frig early Friday night so that you can clean it out on Saturday morning, all you have to do is set the timer, and voila, you have a defrosted refrigerator in the morning.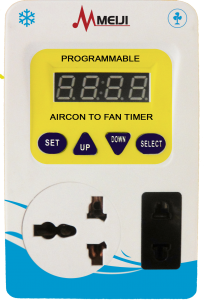 Most large appliances can also use the Voltage Protector as it can handle a load of 4,400 watts, and 20 Amperes. Your appliances are now also protected from the fluctuations in electricity and from faulty surges.
2. Aircon to Fan timer
With the heat of the summer and the nights being cool enough, one really needs a timer to make sure that your aircon is off, and electricity is saved, once one is asleep. Good thing Meiji has an aircon to fan timer that can accomodate aircons of up to 2 horse power. All you need to do is plug in the aircon and the fan and set the timer for when the aircon should be turned off and the aircon turned on. This makes your aircon cost efficient and you didn't have to disrupt your regular sleeping schedule just so that you could get up and turn off the aircon.
With the many available uses that timers have and the savings that people can earn from using timers, one should really invest in a trustworthy, durable, and multi-faceted one that the Meiji line has.